Bottlenecks in the recruiting process are a major source of annoyance for businesses of all sizes and industries. Even CEOs and CIOs admit that the most difficult challenge they have is finding qualified candidates. The tense relationship between recruiters and hiring managers is a major cause of concern. Although employers and recruiting managers have the same aim, their relationships can be fraught with misunderstandings and challenges that eventually create barriers to getting the finest personnel in a timely manner.
How can we bridge the evident difference between employers and recruiting managers while still strengthening this critical working relationship? Best practises centred on a collaborative, Technology-enabled connection between recruiters and hiring managers are critical for removing roadblocks in the talent acquisition process.
Bottleneck: Efficient or Insufficient?
Companies with a quicker time-to-fill showed a considerable reduction in the amount of time spent reviewing recruiting managers. However, after being submitted to a company, the typical resume spends 37% of its time with the hiring manager, which is the most average duration among the five phases of the recruiting process. Is it because hiring managers are rescreening applicants because the offered candidates and their needs do not line up? It could be. The applicant screening done by recruiters is "insufficient," according to 77% of hiring managers. Additionally, according to 51% of employers, hiring managers "need to do a better job expressing what they are looking for in a candidate" and "offer relevant examples."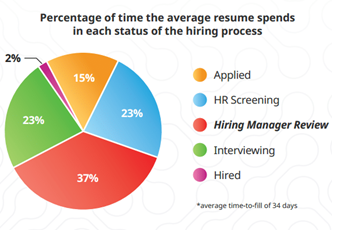 According to a recent survey by the iCIMS Hire Expectations Institute of 375 hiring managers and 600 recruiters, 80% of employers believe they have a "high" to "extremely high" understanding of the jobs for which they recruit, compared to 61% of hiring supervisors who claim that employers at most have a "low" to "moderate understanding" of the jobs for which they recruit. That is a significant contradiction.
Possible Solution for this Bottleneck
Businesses that adopt the next four best practises to enable faster hiring will undoubtedly be able to work together to solve the greater issue and get rid of process bottlenecks.
Video Screening
As per previous SHRM research, an interview lasts 40 minutes on average, and 33 percent of hiring managers decide whether to employ a candidate within 90 seconds of the interview. Since video screening removes the possibility of wasting time and money on interviews with unqualified candidates, it may be a quick, simple, and economical approach to improve the interaction between recruiters and hiring managers.
Developing Lasting Partnerships
The initial in-person contact with the hiring manager is an important but frequently skipped phase in the recruitment process. Discover more about your hiring managers' personalities and goals so you can tailor your recruiting techniques to meet their needs, pique their interest, and include them in the hiring process. It will also enable you to show them the resources and assistance available to them so that the hiring process is straightforward, open, and effective.
Greater use of Online Networking
Employee recommendations are one of the top sources of external recruits, according to a recent CareerXRoads research, making social media recruiting a great chance for hiring managers and recruiters to collaborate on sourcing. This enables hiring managers to actively take part in sourcing as a team effort and utilise their own networks to find prospects.
Use of Technology has Increased
All sides benefit when hiring managers/staff can quickly see prospects, approve positions, prospects, and offers from their mobile devices, or communicate with recruiters through email with all conversations being automatically logged inside the system. Additionally, they will get exposure to the hiring process and be able to play a more active part in clearing bottlenecks.
Locating Reliable Sources of Technical Talent
These professionals carefully examine their hiring data to determine the greatest prospects for identifying qualified sources of tech talent rather than approaching a hiring objective with a blank slate. Employee recommendations, which account for 24% of hiring at Rife VideoAmp, and passive outreach, which accounts for 51% of hires, are the company's two main sources of talent, according to Rife.
Effective Ways to Streamline Your Hiring Process
The recruiting procedure is one of the few things that has such a significant influence on your client's growth. Because of this, it typically takes agencies 36 days to select the best candidates for a post and fill it. The fact that it takes so long to fill important roles really hinders the client's growth and the efficiency of their team. Furthermore, if you end up hiring the wrong person, it will cost you time and resources and put you back where you started. This is why it is critical to streamline your hiring procedure to make it more effective and affordable.
Improve the Bugs in your Screening Procedure
Preparing a complex round-by-round interview process does not ensure the best hiring. Instead, it overburdens you with extra work and wears the candidate out.
Plan the applicant selection procedure carefully to do more work in less time. You can swiftly fill the position and decrease candidate drop-offs with the aid of a well-designed selection process. The screening of resumes is the initial stage of the hiring process. You may use an ATS to automate this process to save time. Start the phone interviewing after you have the applicants you want to move forward with. To determine whether an applicant satisfies the fundamental requirements, phone screening is an effective tool.
Eliminate the Candidate's Limitations
When we lay out our recruiting procedures, we frequently get too picky about gathering as much information as we can about the applicant to facilitate screening. Contrarily, it is harder to narrow down the options and decide the more information you have. Additionally, it could frighten the applicants, preventing them from completing a long application form.
While you are about it, streamline the application procedure for applicants to apply for the position.
Select a Hiring Software
Creating job descriptions is only the first step in a process that includes managing the candidate pool, reviewing resumes, organising interviews, and other activities until you choose the ideal individual. It might be time-consuming and error-prone to manually update the database and communicate with hundreds of candidates. And the candidate desertion rate will reveal any flaws in your hiring procedure.
Just picture how much simpler your job would be if all of this tedious, repetitive activity was automated. For long-term gains, it will enable you to concentrate more on your training and retention plan.
For the same, we have got the best available software named as HireME, which is New Age Recruitment Management System. Utilize an AI-based recruiting management solution to hire 98% better candidates. Get a 5X better interview process, application management system, and proactive candidate interaction, along with 4X the productivity. Start using the cutting-edge applicant recruiting software today and notice the difference.
You may receive a completely simplified hiring procedure for less money with HireME. Finding the top people for your available roles is now quick and simple. You can hire more quickly and effectively using HireME's clever features, like duplication identification and application monitoring. Additionally, you may save time and boost productivity since we assist businesses of all sizes in managing their hiring procedures more effectively.
Conclusion
Do you still think it is a hustle to hire someone? It is not a hassle to hire. It is the procedure that has the biggest influence on your client's success and culture. Make sure you are using a simplified hiring process to find the ideal candidates quickly. You may add flexibility and speed to your hiring process by using these methods. It takes ongoing work and adjustments to hire someone who meets industry requirements. However, if you make smart technology investments, you will be able to assist your customer in keeping top employees.
The good news is that HR teams can use data to improve hiring procedures and eliminate bottlenecks, allowing them to quickly find qualified individuals, communicate with them, and ultimately choose the best prospects for open positions.